Manufacturer Website Design for Tool Inventory & Organization Service
Tool inventory & organization service provider Tool Organization Service wanted to update their existing website to bring in more leads, provide an improved user experience, clearly explain what they offer and get found by auto and truck dealers who need their service.

I composed a plan to address all of Tool Org's new site goals like quicker access to request consultation, more clear and concise messaging above the fold, clear calls to action, and a more modern look and feel.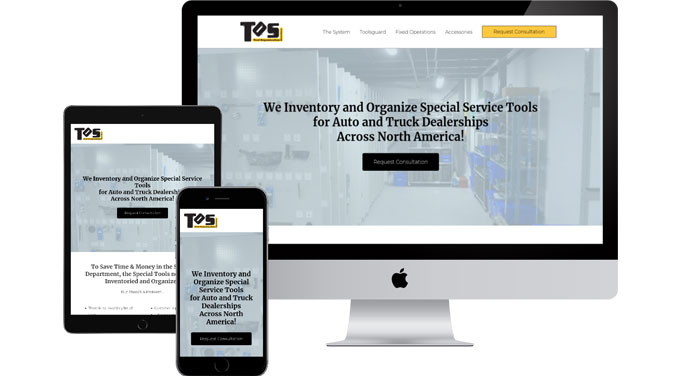 "Patrick Whitson is a talented Freelance Website Designer. If you want customers to find your website, he is the designer for you. He understands the importance of SEO and creates websites that are easy to find, full of information, and easy to navigate. I have worked with Patrick for many years. He has designed and created my company website. He keeps it updated and has always helped me with SEO. Patrick has both creative skills and technical abilities that allow him to develop functional and user-friendly websites. His recommendation to add ecommerce to my company website has been very beneficial, and he set it all up without any issues. My customers appreciate the ease of ordering and I appreciate the time-savings and extra sales." – Matt English, Owner
Client
Tool Organization Service (TOS)
Location
Lapeer, Michigan (Columbiaville)
Industry
Manufacturing, Professional Organizer
Services Provided
Hosting, Maint. & Support
Website Redesign
Content Creation
Google Business Profile Optimization
SEO – Video Marketing, Articles
About Tool Organization Service

Tool Organization Service is a complete special tools solution for auto & truck dealerships nationwide. They identify, inventory, sort, and ultimately organize special service tools so they can be found quickly, used, and easily returned to their proper location.

Situation: A Website in Need of Better Functionality and Lead Generation
Tool Organization Service has a varied purchase cycle as it is based on budget approval and scheduling of the project. Auto and truck dealerships seek out Tool Org. because their service department tool room is a mess, dis-organized and hard for the technician's to find tools.

The website redesign was needed so that it would clarify what service is provided, and to simplify requesting an estimate for the service manager and have a proposal for management approval, thus increasing leads and sales.

Solution: Semi-Custom Website with Improved Aesthetics & Customer Acquisition
I prefer to use the WordPress CMS to build websites for manufacturers and that's exactly what I did with Tool Organization Service. I customized a popular theme and built out layouts for the home and internal pages which incorporated their color scheme, logo and brand elements. This allowed me to combine their current photography, and other assets into the modern updated design.
The navigation was simplified for visitor ease of use in finding what they need, calls-to-action were prominent and clear, easy access to request and estimate and content that explains how Tool Organization can solve their unorganized tool room problems. I also incorporated a blog into the site to showcase different dealership tool room projects based on OEM and location.

eCommerce Functionality Added
Tool Org. offers accessories for the tool system that they install for auto and truck dealerships around the nation. After consuting with Matt, he agreed to add eCommerce functionality to the website to simplify requesting tool room accessories that service managers may need.

I added nearly one-hundred products that include hooks for the panels, baskets, carts, shelving, rivets, totes and more. This allows for fast online ordering, automated notifications and fulfillment, which has brought steady increased income since the online store opened.
Have a Website Project in Mind?
Is your website outdated, not user friendly, has no traffic and no sales?
Find out how to make your website work for you.