Website Design New Jersey
Creating websites for New Jersey companies that build
trust & authority, stand out and convert visitors into sales
Looking for a Website Designer
in New Jersey?
Hi, my name is Patrick. I'm a freelance website designer whom crafts lead generating websites for small-to-medium sized businesses and eCommerce brands like yours.

Why is that important to you?
Well…. I'm not a mind reader (although, my pet parakeet may think otherwise)…
But, being in this arena for over a decade, I understand that you as a SME owner are looking to build and grow your business on these here interwebs, with a website that sells more of your products and/or services to those who are searching for what you offer.

I mean… you have expenses, upkeep, maintenance, salaries (including your own) and equipment, inventory, etc. to meet and provide in order to fulfill the needs of your market and to feed the mouths of you and your workers families.
Interesting fact:

When I was in the U.S. Navy (1986-1995) while the ship I was stationed on (U.S.S. Saipan LHA-2) was in dry-dock in the Philadelphia shipyard, my wife and I rented an apartment over in New Jersey (I'm having flashbacks of traveling over Walt Whitman bridge…) off of White Horse Pike. We lived there for eighteen months while the Saipan was being fitted out for repairs.
Sorry… I digressed. Let's continue on…

Your Website Should Be A 24/7 Salesman That Doesn't Sleep

If you have an existing website it should be designed to be a workhorse for your New Jersey business and bring in new leads, calls and new sales.

If it's not, your website is most likely struggling with one or more of the following:

Bringing very little traffic (except for maybe family & friends)
The design is old and looks like a flashback to the nineties
Prospective customers can't find you anywhere online
Not in a position of trust or authority in your field or industry
Local visitors are not finding important information quickly
It doesn't stand out from your competitors
No new leads or sales are coming through
If you can check off one or more of those problems above and you want to solve them, then that's where I come in.

I'll create for you a modern looking website which positions you as the trusted company in your field of expertise, that gives you authority, and brings in qualified customers to purchase your goods or services so you can grow.
Some Websites I've Crafted
It's my goal to create websites for your small to mid-sized company
to bring in high-quality leads, stand out, load fast and become
your 24/7 sales system.
CLIENT
Tool Organization Service
With their tool organization system in high demand nationwide, Tool Organization Service quickly needed a way to educate dealerships and bring in high quality leads.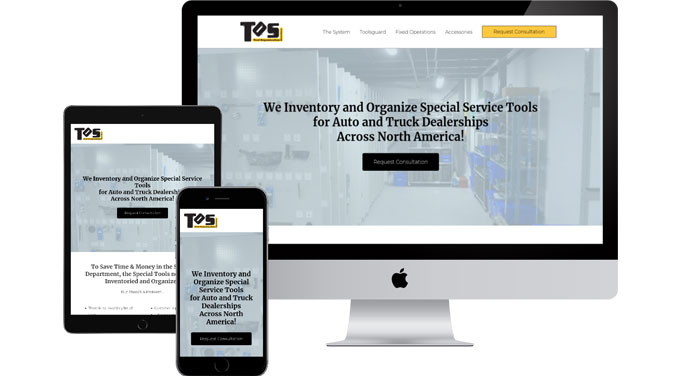 253 Keyword phrases ranking • 6x Traffic Growth • 100+ leads per year
My Web Design Services Available
in New Jersey

Whether you are an established New Jersey business whom has an existing website or doesn't have a website at all… I offer the following services to help you establish trust and authority, bring in traffic and create more sales for your business.
How We Can Work Together:
Build You a New Website
This is the service where I craft a new website for your small to mid-sized business in New Jersey that is tailored to your niche and business goals.
Makeover Your Existing Website
If you are looking to freshen up your already existing website for your business and turn it into a 24/7 salesman, this is the option for you.
Design You an eCommerce Website
Choose this option if you are looking to get your brand recognized and make it easy for customers to purchase your products or services through your own website.
WordPress Care Plans
My WordPress care plans and maintenance packages will ensure that your site is secure, safe, and kept running so you can have peace of mind to focus on what you do best… running your business!
What My Client's Are Saying
Read what others have to say below about myself and my work in relation to website design and digital marketing for their business.


Patrick took the time to carefully explain everything we did not understand, and responded to all of our questions in a timely manner. Our online store looks professional and our customers find it easy to use. Our sale is off to a great start!

Mary Brown – LCD District Manager
Patrick has done a awesome job of transferring, hosting and redesigning our website!! He is very professional and has done everything he said he would do when he said he would do it.

Bill Macom – Owner
L & M Landshaping
Have a Website Project in Mind?
If you need a brand new website for your New Jersey business or are looking to get a makeover of your existing website, click the green button below.
For any other NJ Web Design services, reach out and I will get you a time & cost estimate.